We are specialists for additive solutions in the plastics industry.
We have a high level of expertise in designing formulae,
compounding and in applications engineering in extrusion and injection moulding.
We fulfill highest quality standards "Made in Germany".
We select our suppliers according to demanding criteria, too.
We stand for high performance, high flexibility and a close customer relationship.
This means for our customers immediate reaction on their demands in the process of product design.
We offer a wide range of products,
individual solutions and technical support for successful product implementation in the customers' process.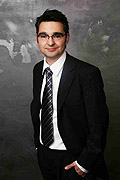 Dipl. Ing. (FH) Sascha Köbisch
Since 1997 in the plastics industry. Facing challenges to develop solutions and improvements - that's what attracts me to this industrial sector.